After being missing for more than a year, Apollo has landed back home.
A 4-year-old blue nose pit bull, Apollo landed back into the arms of his owner, Dillon Hart of Pocatello recently after staff at the Blackfoot Animal Shelter tracked Hart down using a microchip embedded in Apollo's skin.
"I really couldn't even believe it at first," Hart said about the first time he saw Apollo in more than a year.
"I was skeptical that it was even my dog. I had pretty much wrote him off. I never thought I would see him again."
Hart and Apollo's "Homeward Bound"-esque story began sometime early last year when Hart left Apollo at his dad's house near Tyhee north of Chubbuck while Hart went to Boise for work, Hart said.
When someone at his dad's house left the gate to the yard open, Apollo escaped. Hart is unsure what exactly happened after Apollo escaped but believes someone found him and took him.
For months, Hart hung up missing posters for Apollo but his efforts to find his missing pup did not succeed.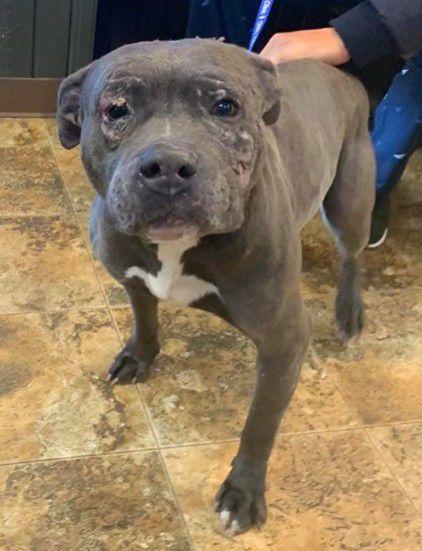 Apollo and Hart's remarkable reunion inched closer when Apollo was surrendered to the Blackfoot Animal Shelter on the afternoon of Oct. 25, according to Amanda Cevering, executive director of the Blackfoot Animal Shelter.
"Somebody had found Apollo wandering the rural roads out in Fort Hall," Cevering said. "We scanned him for a chip, which he had one, and we took down the information of the people who found him."
Using the microchip, shelter staff learned Apollo had been adopted through another animal shelter in the Blackfoot area in 2016, so they called the shelter and got the contact information for the owner who had put the dog up for adoption.
"That ended up being a dead end," Cevering said. "Both the phone number and address were no good. So we posted a picture of him to Facebook and took him to the veterinarian to get checked out."
When Apollo first arrived at the Blackfoot Animal Shelter, he not only had scarring on his face consistent with puncture wounds from other dog bites, he also had fresh wounds on his face that were bleeding, Cevering said.
As they were getting Apollo the medical attention he needed, the Facebook post about Apollo took off, garnering hundreds of shares and reactions. Though Apollo looked much different than when he had originally gone missing, Hart contacted the shelter thinking it was his dog in the pictures.
Hart had paperwork with a microchip serial number for when he took his dog to the vet as well as old pictures of his dog.
It was tough to tell in the pictures if he was the exact same dog, but the paperwork and microchip had matching serial numbers.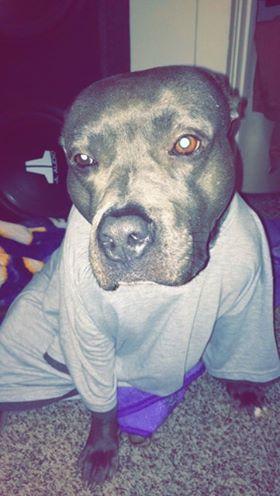 "A home visit was done over the weekend and any dog would be lucky to live in this home," Cevering wrote on the Blackfoot Animal Shelter Facebook page. "Then we all came to the shelter for a visit. Let me tell you I have been doing this a long time. However, this was epic — heart-warming beyond words. Apollo would not leave his side, this was the best ever. There is NO question these two love each other and no matter how much time goes by it will never be broken. Tears of happiness by all. We could not keep them apart for another minute. I don't think Apollo would have allowed it."
Cevering said Hart was almost in a state of shock during the meeting with Apollo, adding that he was visibly fighting back emotion.
"At first, he ran over to me and then looked back at the shelter people," Hart said. "He was a little gun shy. But once he smelled me he just ran over and sat between my legs. He was so happy, just wagging his tail like crazy."
After a follow-up visit where Apollo was neutered and his face was checked to ensure there was no infection, Apollo has been at home recovering with his human dad for about a week now.
Hart was taken aback by the many wounds to his dog, which also included some blunt force trauma to the head at one point, Hart learned after speaking with animal shelter staff. However, he doesn't think his dog was used in some type of orchestrated dog fighting ring, considering Apollo is still alive today.
"If he was involved in a dog fighting ring, I think he would be in much worse shape," Hart said. "He would have basically been a bait dog and there is no way he would have lasted for more than a year."
At the Blackfoot Animal Shelter, the cost to microchip an animal is between $20 and $40, Cevering said. The process involves embedding a chip the size of a grain of rice underneath the animal's skin between the shoulder blades. It is an invisible identification tag that cannot be lost like collars and tags, but is not a tracking device, Cevering said.
"I would definitely microchip any of your animals," Hart said. "Also double-check your gates and fences to make sure your pets are always safe."
In addition to offering some friendly advice, Hart also wants the people who took Apollo to the shelter in Blackfoot that he is beyond thankful for their selflessness.
"Thank you," Hart said. "Thank you so much. I think him and I are both pretty happy about finally being back together."