CHUBBUCK — Police arrested fugitive Samiir Blade Afraid of Bear around 2 p.m. Thursday in Chubbuck.
CHUBBUCK — Police have deployed a SWAT team and armored vehicle as the search for fugitive Samiir Blade Afraid of Bear intensifies in Chubbuck.
Chubbuck residents are being told to remain on the lookout for the fugitive and to use caution until he's arrested.
Afraid of Bear, 27, of Fort Hall, was briefly in police custody on Thursday morning in Chubbuck but he escaped from a police car, triggering a massive police manhunt.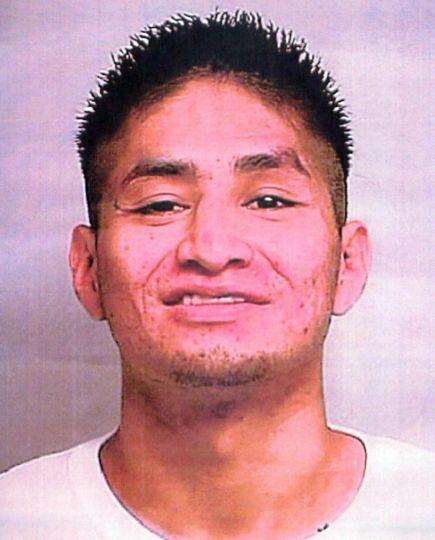 Afraid of Bear was in handcuffs in the police car on Adams Street around 8:30 a.m. Thursday but was able to exit the vehicle by kicking out one of its windows, according to the U.S. Marshals Service. He then ran from the scene and remains on the loose.
It's believed Afraid of Bear is in Chubbuck and police deployed numerous SWAT officers and an armored vehicle on Thursday afternoon to assist the officers from several law enforcement agencies who had been attempting to recapture him since his escape.
Afraid of Bear, who's Native American, should be considered armed and dangerous, Chubbuck police said. If you spot him dial 911 immediately.
Chubbuck police sent a community-wide text message alert at 9:40 a.m. Thursday indicating they were in the area of Adams Street off Yellowstone Avenue attempting to recapture Afraid of Bear. He is described as being 5 feet 8 inches tall, weighing 168 pounds and was last seen wearing all black clothing.
Afraid of Bear is wanted on several outstanding warrants for felony crimes he's accused of committing. 
Among his alleged offenses, Afraid of Bear has been charged with burglary, robbery and aggravated battery in connection with the Jan. 1 robbery of a Short Stop convenience store in Bingham County. 
Then on July 5 Afraid of Bear was allegedly involved in an attempted carjacking in Ammon and subsequent high-speed chase through multiple East Idaho counties.